true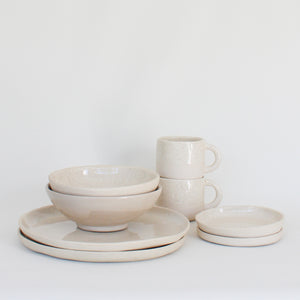 Our tableware sets are handmade to order and take around 3 weeks. Available in oatmeal clay for two, four or six places. Each item is glazed inside only, with the tactile texture of the clay and black sand remaining on the outside. 
The set includes organic shaped mugs, side plates, round bowls and large dinner plates. 
All of the pieces in the set are also available separately - see product pages for more detail about each item and dimensions. A discount of 10% has been applied to the set prices. 
The sets
 are dishwasher safe, but we recommend drying them well and avoiding microwave use.